As I march in the struggle every mother has to get organized, stay organized and run a more orderly home, I am so excited to be implementing two new things, from The Ultimate Homemaking Ebook Bundle to help me!
I've recently realized, as we've virtually been rebuilding and putting our lives back together after the tornado in 2011, that I need to regroup and become more intentional, especially with my little ones, about imprinting God's word and His wisdom on their hearts each day. So these have come at a perfect time!
Write Through the Bible, by Trisha @ Intoxicated on Life, is a printable download of copywork sheets of memory verses. I love this for several reasons. First, we are huge fans of copy work, a simple practice that Charlotte Mason hailed as a fundamental teaching tool.
"When a child copies a passage, he has to copy letters, words and punctuation. And in order to copy it correctly, he has to really see it. This is a seeing that impresses the information on the child's brain." -C. M.
These sheets are done for me, with lined spaces and Scripture verses, which we favor for copy work, but it can be hard for a little one to copy the tiny words from a Bible. Problem solved! The kids love these so much more than just writing in their notebooks. (There's a cursive and print version.)
Easy Peasy Chore Charts by Alina Joy @ The Good Old Days Farm
Finally, simple help with chore time! Such a brilliant idea!
A customizable, printable system that easily adjusts to every family, this chore chart system makes helping children remember and follow through with their chores easy peasy!
I'm still printing these off and getting my system set up and I'm just giddy thinking about it!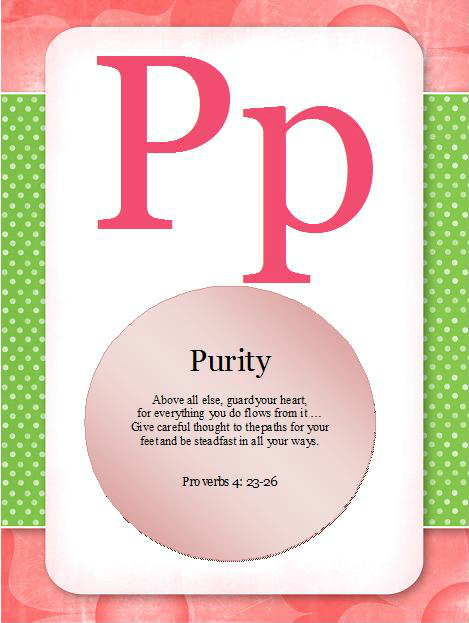 And this!!!
The ABC's For Godly Children Curriculum
, by Lindsey at
Road to 31
–a fabulous resource for moms of young ones who want to intentionally turn their hearts toward God's Word. I'm printing and laminating these to use over and over. One of my older ones can recite it with the younger ones and everyone benefits from some important Scripture memory.
"The ABC's For Godly Children is a comprehensive, Bible eCurriculum centered around teaching children ages 4-10 about the God they serve and how to have a heart like His.
By using each letter of the alphabet a Bible lesson is presented in an understandable and interactive format to teach core truths concerning the Gospel, Godly Character, and Biblical Manhood and Womanhood. Your children will learn their ABC's and a necessary Biblical foundation as they connect them through Scripture memorization, detailed lessons, simple crafts, and interactive song."
~~~~~~~~~~
Notice that the purchase of these three fabulous resources totals $30.99. Worth every penny. BUT, if you buy The Ultimate Homemaking Ebook Bundle you get these two PLUS 95 more incredible ebooks, PLUS $140 in bonus gifts for just $29.97.
That, friend, is a no-brainer ;-). Don't forget to tell your friends, who may be struggling in different areas, about this amazing deal (or you could surprise her with it!)
10 Responses to "Making Life Easier: Chores and Homeschool Help is Here!"
Leave a Reply
Dissenting comments are welcome only in the spirit of "iron sharpening iron"; hateful or angry responses will be removed at my discretion. You may add your gravatar (image) at
Gravatar