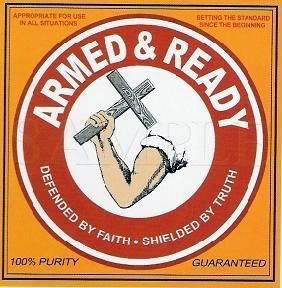 I finally had the privilege of meeting Dr. Voddie Baucham last night.  It was truly an honor.  And just as every other message, last night's was just as riveting and motivating as ever.
Discipleship in the church was the topic and we left with all sorts of thoughts to chew on.  But my favorite point was one he made about our "intolerance of mediocre men" in the church.  And as I have two sons, any subject on manhood concerns me and beckons my attention as I pray to see them grow up to be fervent disciples of Christ.
The point was prefaced by the fact that Titus 2 teaches us that men are to be "sound in faith and doctrine".  That exhortation is given to all men, and is to be primarily taught from the older men to the younger men.  Of course he pointed out how the church has unwisely broken the model of passing down faith from the older to the younger generation, but I digress.
Here was Dr. Baucham's keen observation:
"We don't tolerate anything but spiritual mediocrity in men."
Which sounds odd at first, until his illustration proved the point.  If a young man takes an interest in the things of God, begins memorizing Scripture and studying theology, we tell him it is certain he has been called to the ministry.  And thus, as Dr. Baucham jokingly/truthfully added, "You need "Reverend" in front of your name so I won't feel bad".
He lamented the fact that so many men who have walked with the Lord for 30 or 40 years don't have a soundness of faith and doctrine, leaving that stuff to pastors and men in ministry.
It ought  not be!  And it's a primary reason the strength of faith that we once saw in the past heroes of the faith is sorely lacking.
But that all involves men, and we're women.  So what does this have to do with us? (By the way, he discussed what it looked like for the older women to teach the younger women as well, but I wanted to expound on this point today.)
As a mother with sons, we, alongside our husbands, are given the task of discipleship.  And while we pray that our young men will have older men who are sound in faith to emulate, starting with our husbands, it is mostly mothers who are given much of the "leg work" in the training process.
The message was a good reminder to me to provide as many examples of godly men in my sons' lives as possible.  Our culture has a staggering dearth of godly role models.  Athletes, musicians and movie stars abound (and a few of those are  men sound in faith); but where are the George Muellers, Martin Luthers, and Jonathan Edwards of our day?  Men willing to lose all they had for the cause of Christ?
Do we impress on our children the importance of memorizing Scripture so that the Word of God can get deep in their hearts and grow and bear fruit?
Reading about the heroes of the faith, memorizing Scripture, honoring godly men (beginning with our husbands) with our lips are things mothers can do to develop an appetite for the things of God in the hearts of our sons.
And to leave you with Dr. Baucham's final thoughts and question…(Slightly paraphrased)
"We love academics enough to send them to the best schools and sacrifice to get them to college, we love athletics enough to hire a coach or sacrifice to get them involved in all the sports teams, but do we love the gospel enough to do all that we can do to raise children who love Him?"
39 Responses to "Raising Sons Sound in Faith: Do We Love the Gospel Enough?"
Leave a Reply
Dissenting comments are welcome only in the spirit of "iron sharpening iron"; hateful or angry responses will be removed at my discretion. You may add your gravatar (image) at
Gravatar