Dallas Willard, professor of Philosophy at the University of Southern California, wrote,
"Bible memorization is absolutely fundamental to spiritual formation. If I had to choose between all the disciplines of the spiritual life, I would choose Bible memorization…"
I am convinced of the necessity and power of Scripture memorization in the life of a believer.  So often we want a formula, a 3-step method to make the Christian life easier, when really, it's even more simple than that!
In Ephesians, where we are given the armor of God to effectively stand against our enemy, all parts of it are defensive except one:  the sword of the spirit, which is the Word of God. Now it stands to reason that if the Word is our means of fighting Satan and his attacks, then that Word must be available to us in all places at every  moment.  And I'll be honest, when my time comes to fight sin (say, getting dressed for church, in a hurry, the toddler has lost one of my shoes, no one else can find his shoe either…you get the picture), I'm not spiritual enough to stop and grab my Bible to engage in warfare.
But I can't tell you how many times, thanks to the intensive Scripture memorization required of me as a child, that the Lord has brought just the right word–brought?  I should say "charged in with" the ammo I needed to fight my sin at just that moment. The same sweet Word has many times come as a balm to soothe my fears and anxieties.
"For the word of God is living and active. Sharper than any double-edged sword, it penetrates even to dividing soul and spirit, joints and marrow; it judges the thoughts and attitudes of the heart." (Hebrews 4:12)
I would encourage you to guide your children in this exercise of Scripture memorization.  It is SO much easier to do as a child!  Very practically speaking, the best way to memorize is to hear it, say it and sing it repeatedly.  (We also use whatever passage we're memorizing for copy work.)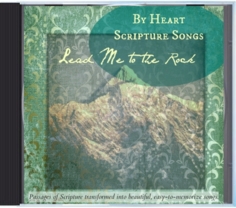 We recorded a Scripture CD for just this purpose, to help you and your family memorize large portions of Scripture. Listen to clips and buy yours HERE.
"But as for you, continue in what you have learned and have become convinced of, because you know those from whom you learned it, and how from infancy you have known the holy Scriptures, which are able to make you wise for salvation through faith in Christ Jesus. All Scripture is God-breathed and is useful for teaching, rebuking, correcting and training in righteousness, so that the man of God may be thoroughly equipped for every good work." (2 Timothy 2:14-17)
I can think of little else more precious to give our children as the gift of Scripture memorization.  We might even blame a large part of the church's error and going astray on the fact that so many do not know what the Bible even says, much less have it hidden in their hearts as a precaution against sin.
"I know of no other single practice in the Christian life more rewarding, practically speaking, than memorizing Scripture. . . . No other single exercise pays greater spiritual dividends! …Your faith will be solidified." -Chuck Swindoll
14 Responses to "The Importance Of Memorizing Scripture"
Leave a Reply
Dissenting comments are welcome only in the spirit of "iron sharpening iron"; hateful or angry responses will be removed at my discretion. You may add your gravatar (image) at
Gravatar